Kwik Kerb Calgary has been specializing in continuous concrete landscape curbing and garden edging for 18 years. We come to you, anywhere in Calgary and the surrounding area, and create landscape borders for both residential and commercial properties. To ensure quality craftsmanship, we are meticulous with the details of every job we do – you can rest assured that our final product will look better than the work of our competitors. With our decorative landscape curbing for your home or business, your property will look polished and elegant, and will also have the potential to increase in value.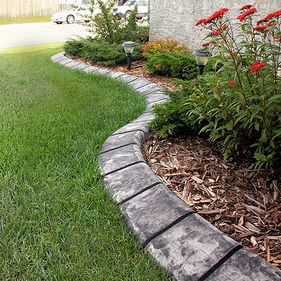 These guys were great to work with they did our neighbours place and we planned to have our's done to match they got the job done quickly and restored the site to its original shape. I would highly recommend them"
For all our installations and products, we offer a 3-year unconditional warranty. We do our best work for every single project, and you know that you can rely on our team to always arrive on time and complete a job as scheduled.
A popular edging that we specialize in is EuroStyle® decorative finishing, a premier product with numerous colouring and impression options available. Read more about it here.
Call us today for a free estimate, and transform your property.
Get A Free Online Quote In Under 24 Hours
Call Or Text For a Free Quote